Our vision
Dr Bob Cvetkovic and his team provide a comprehensive range of dental services over your whole life. We bring care and commitment to your oral and dental health. We listen to your concerns and work together with you. We support you at your times of need and help you take care of yourself.
Dr Bob Cvetkovic
BDSC. (MELB), LDS (VIC), FICD, FADI, FPFA
Dr Bob has provided volunteer dental services through charity organizations for over 40 years. He has been a President of the Australian Dental association – Victorian Branch, and involved as a Councillor for 10 years.
He is also a fellow of International Honour Dental Society's including The International College of Dentists, The Academy of Dentistry International and the Pierre Fauchard Academy. He is also a member of The International Association of Communication in Healthcare, the American Academy of Communication in Healthcare and The International Team for Implantology.
He has also been involved in practical research with EviDent – a charitable scientific research organisation based in Victoria.
He has three adult children and five grandchildren, enjoying their frequent company. He also has fun playing and listening to music, photography, art and going bush walking and camping as often as possible.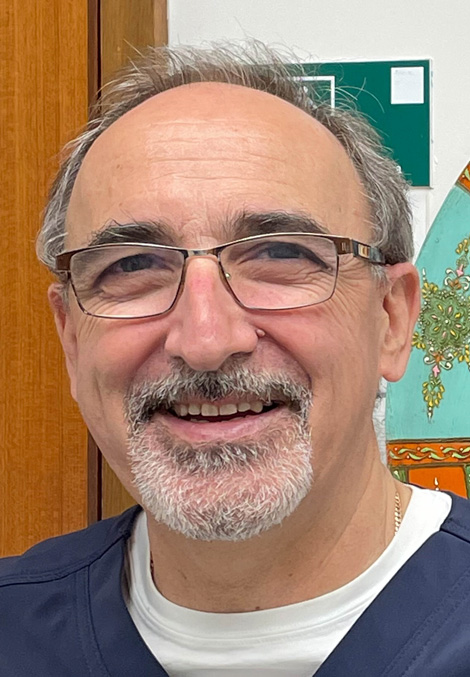 Professional Affiliations
The Team
Caring, Qualified & Professional
'My staff and I care about you; supporting you in times of need, and providing a comprehensive range of oral health care services to restore dental well-being.'
Annie | Practice Manager / Dental Assistant
Annie greets you with a smile and manages all aspects of your care and visit. Her depth of experience and wisdom is foundational to everything she does for you.
Mahi | Practice Manager / Dental Assistant
Mahi brings a commitment to her role as a practice manager to getting things done with efficiency. Be assured that she will do her best to coordinate and accommodate your dental visit and care. She does this with a vibrancy and sophistication that engages you memorably and leaves you with a sense of well-being.
Zanicca | Dental Assistant / Admin Officer
Zannica brings personal connection and comforting conversation as she cares for you. Her attention to detail, commitment to doing things the right way – all done efficiently – blends in to her friendly experiences about all things food, family and life.
Tammy | Dental Assistant
Tammy brings joy, a breezy easiness and comfort to your care. Her commitment to your wellbeing is at the heart of her work ethic. On the side of things she will quietly give you tips on where to visit and what to do to bring happiness to your life.
Jessica | Dental Assistant / Bookkeeper
Jessica brings compassion with a bubbly attitude ensuring patients feel at ease in the dental chair. Her attention to detail and determination to deliver professional care at all times is outstanding all while sharing her camping adventures and stories.
Our Patients
Caring For Our Patients
Understanding that our patients are all unique and that everyone requires an individual approach to caring for their oral health.
'Receive dedicated and personalised follow up care to ensure the well-being of your oral health.'
To make an enquiry or book and appointment, please call the practice.
The Australian Dental Association (ADA) has worked exclusively with Quality Innovation and Performance (QIP) to produce the Private Dental Practice Accreditation Program. This ensures the public that private dentists are adhering to industry regulations assessed against the National Safety and Quality Health Service Standards (NSHQS). Re-accreditation occurs every three years, and the practice takes pride in being at the forefront of continuous quality improvement, patient safety and quality care by maintaining our membership and accreditation and being proactive and responsive to change.
How TO FIND US
Conveniently located dental practice close to Camberwell Junction.
681 Burke Road, Camberwell, Victoria, 3124
03 9882 3366
Opening Hours
Monday – Friday | 8:30 AM – 5:30 PM
Saturday | By Appointment Only
Sunday & Public Holidays | Closed
***Wheel chair access available***
Parking & Public Transport
Parking on Campbell Rd is available and limited to 2 hours, whilst parking on Burke Rd is metered. For longer appointments all day parking is available within a 5-10 min walk at the Well or Woolworths car park.
We are easily accessible by public transport.
Camberwell Train station is a 10min walk from the practice.
Tram 70, 75 & 72 all stop at Camberwell Junction with only a 3min walk